Tickets


SEE YOU ALL THERE!!!!
Tickets for ENCHANTED DREAMS will still be available at THE V LOUNGE tonight!!!!!
Event Details
YOU CAN STILL PURCHASE YOUR TICKETS AT THE V LOUNGE DOOR TONIGHT!!!!!



18+ to Enter / 21+ to Drink / Fully Stocked Bar / 2 Rooms


We will be located at the "V LOUNGE Event Center" - 2020 Wilshire Blvd, Santa Monica, CA 90403



This event is dedicated to the memory of our friend
DJ INpulse
aka
Juan Ramirez Jr
.
Planet Unity Events & Massive Ent
...:::: Present :::...
Sunday August 31, 2014
★★
ENCHANTED DREAMS
★★
With No Work Or School Monday - Labor Day Weekend!!
**** Come dressed as your Favorite Disney Character ****
::: Electro * House * Trance * Dirty Dutch * HardStyle * HardCore * HappyCore * Drum&Bass * DubStep * Trap * Dub :::
L.A. Underground Legend and Radio Personality
★★★ SWEDISH EGIL ★★★
(PowerTools 105.9FM / GrooveRadio)
www.swedishegil.com
www.grooveradio.com
www.facebook.com/swedishegil
One of the most legendary figures of the rave scene in Los Angeles and has become one of the most recognizable names in the the underground and mainstream scene. Playing stages with thousands for years straight it's no wonder why we'd add this iconic DJ to the lineup. This LA hero goes as far back as it gets. Currently working for one of the biggest radio stations in the entire city PowerTools 105.9FM has gained a huge reputation for featuring the best up and coming talent in the scene. With almost 40 years of total experience Swedish Egil stills gives an unforgettable show that will keep you interested and amazed the whole way through.
Los Angeles Drum&Bass Legends!!!
★★
APX1
&
CRS?
★★
( I Love LA / Tons Of Drumz / Ghetto Life / Herb'n Music / Nineteen Ninety What )

www.facebook.com/DJAPX1
www.soundcloud.com/djapx1
www.twitter.com/DJAPX1
www.djcrs.tumblr.com
www.soundcloud.com/djcrs
www.facebook.com/DJCRSTHEDRUMSMUGGLA
★ ★ JOSEPH FRANCIS ★ ★

(Motive Events - Los Angeles)
This will be Joseph
LAST set EVER!!!

Don't miss out on his Special Performance
www.facebook.com/JosephFrancis
www.
soundcloud.com/josephfrancis
Join us for the last set ever for one of the most talked about DJs in all of SoCal. Joseph Francis has decided to leave behind the music scene and focus on other endeavors. You don't want to miss his LAST set EVER hosted by us! Don't miss out as we say Good Bye to our Los Angeles raising Star!!!
★ ★ DJ KITSCH ★ ★

(Orbit Radio / KikWear / HardCore - Los Angeles)
www.facebook.com/hardcorekitsch
www.soundcloud.com/djkitsch
www.orbitradio.fm/djs/djkitsch
★ ★
BULIMIATRON
★ ★
(LACX / Synth City Records - Los Angeles)


★ ★ DJ iTEM 7 ★ ★
(Flavorus.com / Sweet City Agency - LA)
www.DJiTEM7.com
www.Facebook.com/djitem7
www.Soundcloud.com/djitem7
★ ★
MOSES BASS
★ ★
(DataBass DJs / CaliRaves / Demon Dub - LA)
www.facebook.com/M0SES
www.Soundcloud.com/MOSES
http://www.new.demondub.com/
www.facebook.com/SlickTrilla?directed_target_id=0



DJ K-Lin / JACK SPAIDZ
/
DJ PABLO LUANO
/
NOCIVOX / T.H.C. / DJ GOODDAN21

▃▃▃▃▃▃▃▃▃▃▃▃▃▃▃
Doors open: 8:30pm till 2am
18+ to Dance the night away
21+ to drink-Fully Stocked Bar
Booming Sound System & Amazing Lights
2 Themed Areas/Smoking Patio
Roaming Photography
Tons Of Give Aways
$5 Valet Parking / Free Street Parking
Come dressed as your Favorite Disney Character
▃▃▃▃▃▃▃▃▃▃▃▃▃▃▃
╔════════════════════╗
║♥PLEASE FOLLOW ♥ ║
╚════════════════════╝
RSVP on Facebook:
www.facebook.com/events/639596906129738/
For more info on Planet Unity Events:
www.PlanetUnityEvents.com
Any questions, comments, or want to join the Planet Unity Promotion Team:
PlanetUnityEvents@gmail.cominfo@PlanetUnityEvents.com
▃▃▃▃▃▃▃▃▃▃▃▃▃▃▃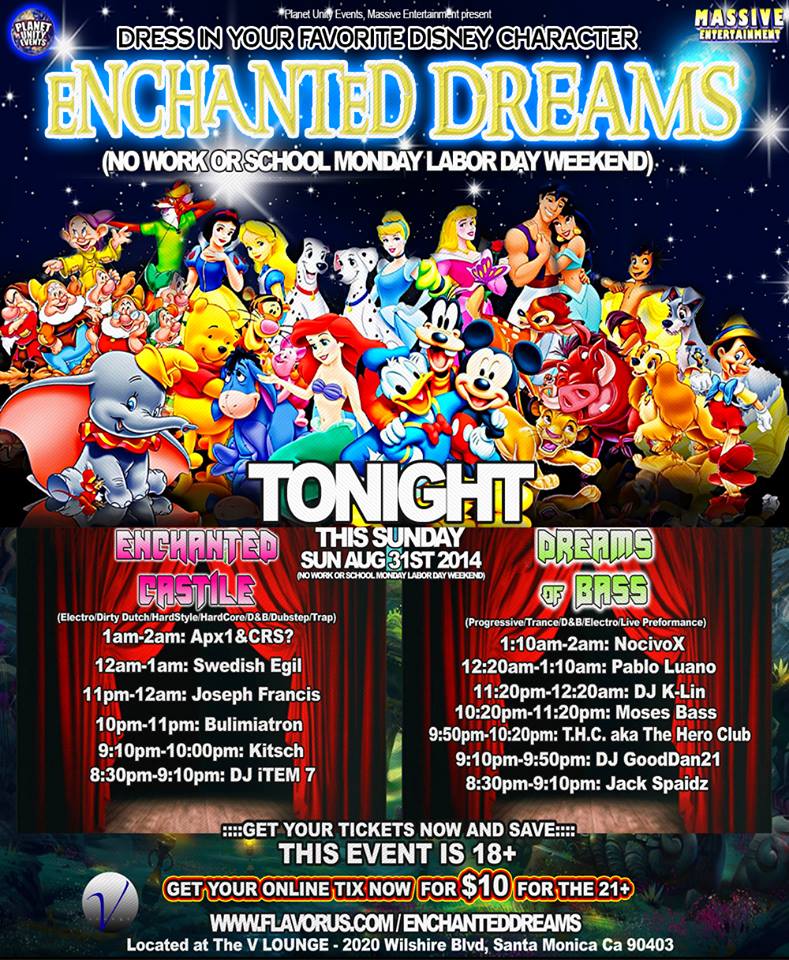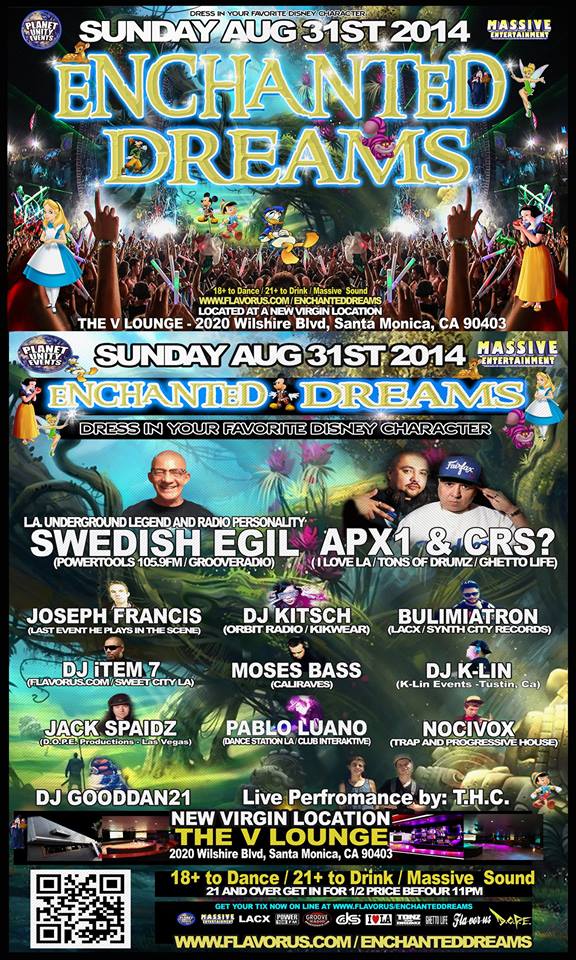 BEWARE: Flavorus is the ONLY authorized ticket seller for this event. If you buy a ticket from an unauthorized vendor or source like Stubhub, ebay, craigslist. We cannot guarantee that it will be a valid ticket. Flavorus, Massive Ent, & Planet Unity Events are not responsible for any counterfeit tickets and cannot provide customer support for any third party purchases.
EVENT LOCATION
2020 Wilshire Blvd., Santa Monica,CA, 90403
View
2020 Wilshire Blvd.
in a larger map
TALENT
SWEDISH EGIL (PowerTools 105.9FM / GrooveRadio) / APX1 & CRS? (Ton of Drums / Ghetto Life / I Love LA) / Joseph Francis (His last set in the LA Scene) / DJ Kitsch / Bulimiatron / DJ iTEM 7 / Moses Bass / DJ K-Lin / Jack Spaidz / T.H.C. aka The Hero Club / and many more!!!